Did you Know, with Google sheets you can convert any words or sentences from one language to another? It's quite simple and fun. Let's see below how to do it.
STEP 1: Open google sheets https://docs.google.com/spreadsheets/
STEP 2: Create Columns with Words or Sentences. For this example, we are choosing English.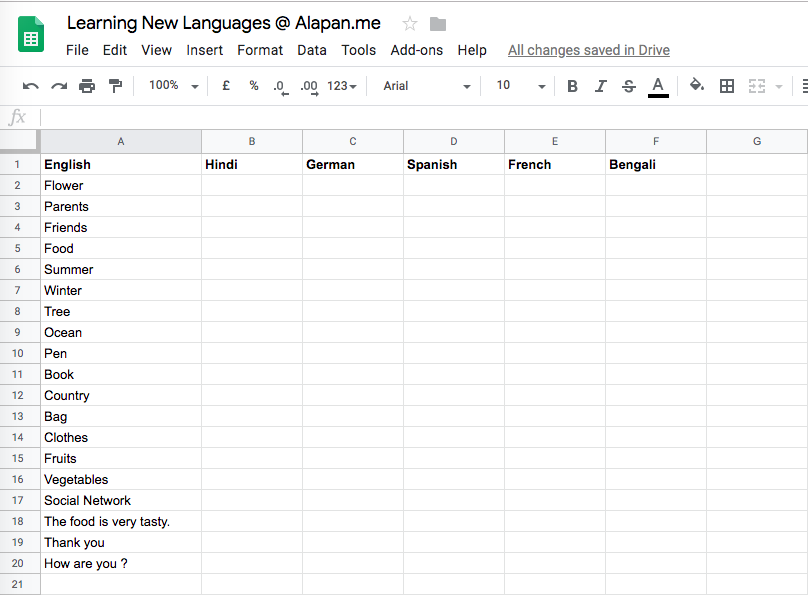 STEP 3: Apply the Formula for converting the words/sentences in Column A to the Languages in Column B, C, D, E, F. The Formula is =GOOGLETRANSLATE("text", "source language", "target language"). So for example, if we want to convert any words/sentences from English to Hindi, our Formula would be =GOOGLETRANSLATE(A2, "en", "hi"). Here, the text we want to convert is at the location A2, hence A2 in the first parameter; the second parameter is "en" because the source language is English, and the third parameter is "hi" as the target language is Hindi. After writing the Formula, press the Enter Key.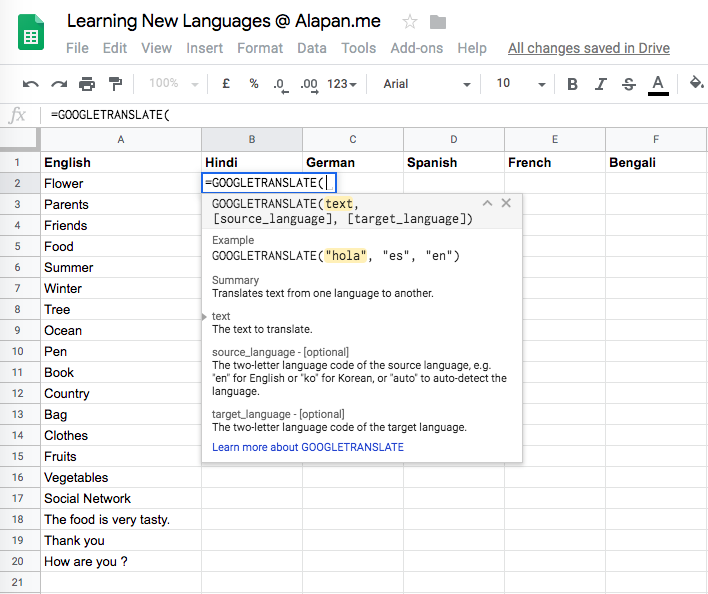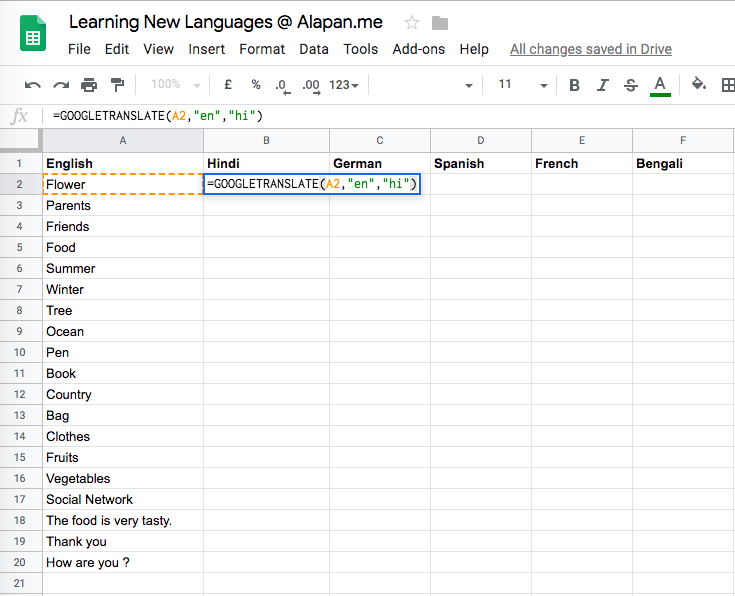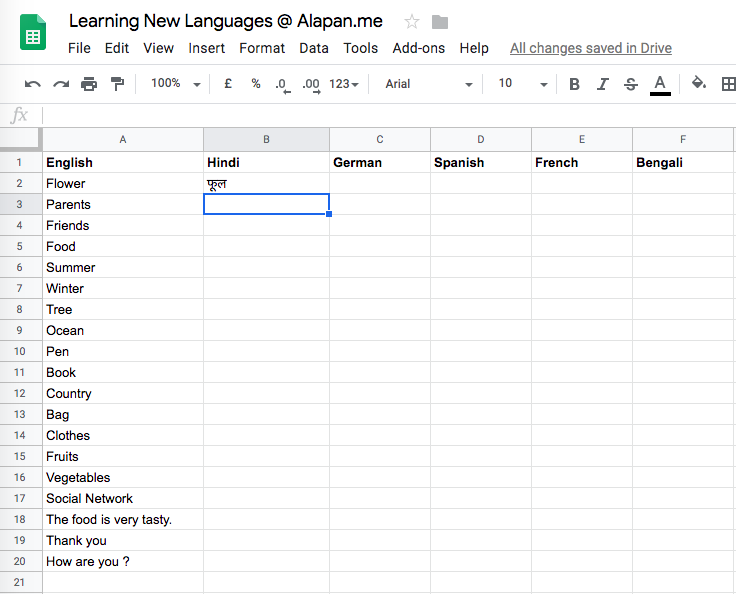 STEP 4: Now to convert other words, left click on B2 cell to select it, move the cursor to the edge(bottom right) of the cell, a + symbol will appear, now left click on the + symbol and without letting go of the Left Click, drag the cursor up to the end of the list, in our case its B20.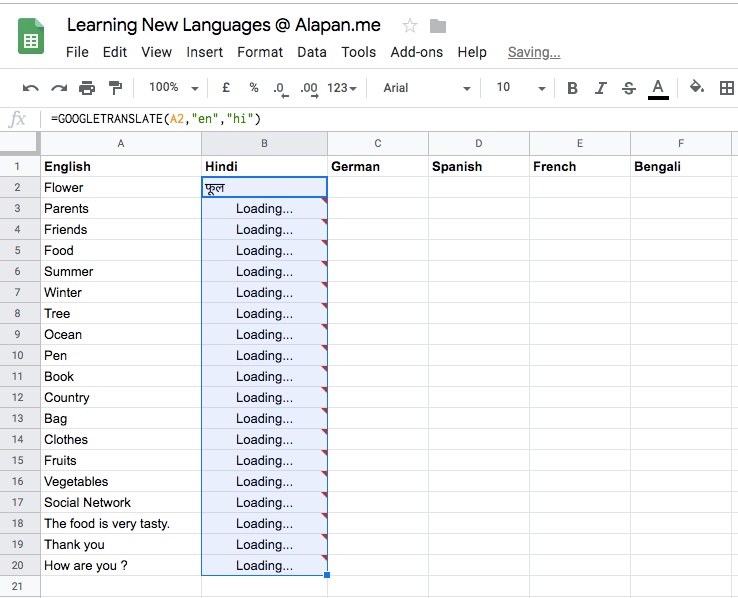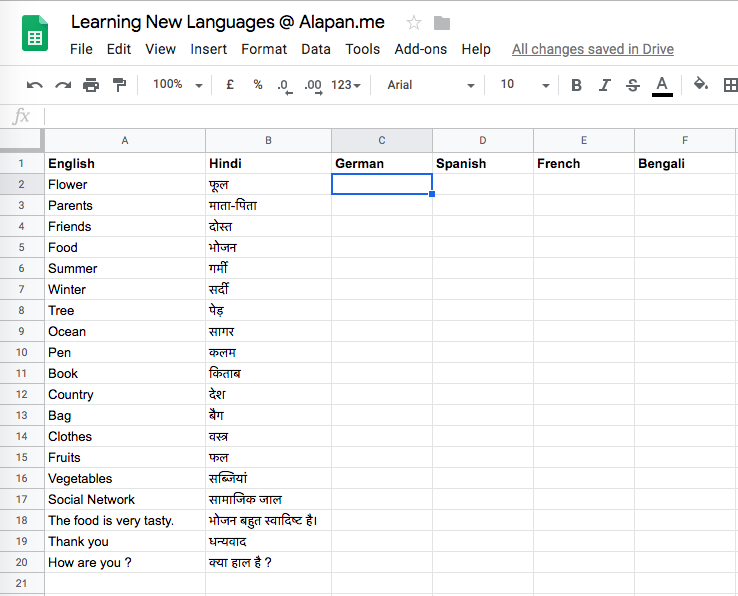 STEP 5: Similarly, for other languages just change the target language and repeat steps 3 and 4.
For German: =GOOGLETRANSLATE(A2, "en", "de")
For Spanish: =GOOGLETRANSLATE(A2, "en", "es")
For French: =GOOGLETRANSLATE(A2, "en", "fr")
For Bengali: =GOOGLETRANSLATE(A2, "en", "bn")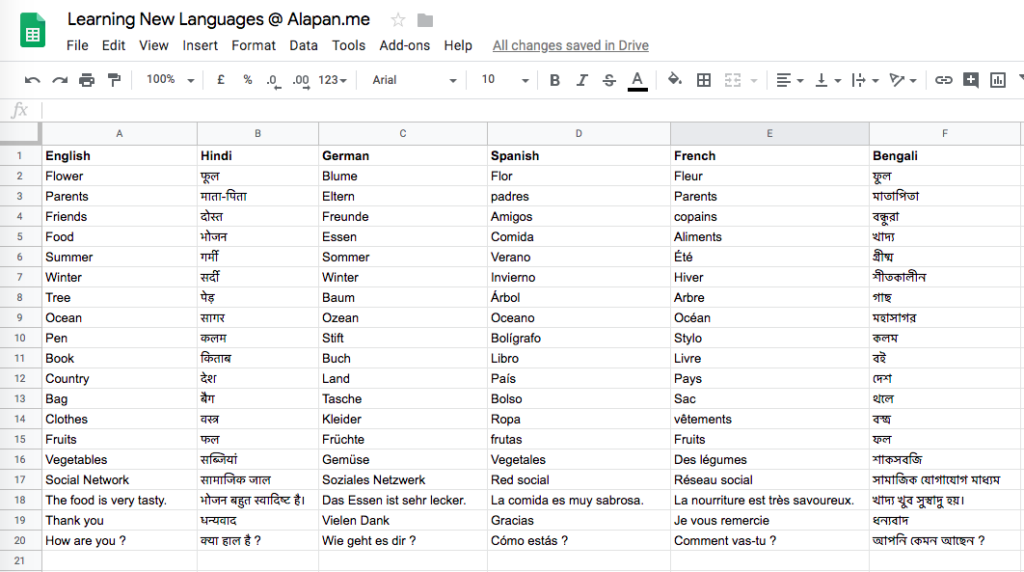 Note 1: In this example, we have considered the base language as English and converted it into other languages. But you can convert words/sentences from any language to any language, just play around with the source_language & target_language.
Note 2: Mentioned Below are the shortcodes of the supported Languages.
| Language | Short Code | Language | Short Code |
| --- | --- | --- | --- |
| Afrikaans | af | Irish | ga |
| Albanian | sq | Italian | it |
| Arabic | ar | Japanese | ja |
| Azerbaijani | az | Kannada | kn |
| Basque | eu | Korean | ko |
| Bengali | bn | Latin | la |
| Belarusian | be | Latvian | lv |
| Bulgarian | bg | Lithuanian | lt |
| Catalan | ca | Macedonian | mk |
| Chinese Simplified | zh-CN | Malay | ms |
| Chinese Traditional | zh-TW | Maltese | mt |
| Croatian | hr | Norwegian | no |
| Czech | cs | Persian | fa |
| Danish | da | Polish | pl |
| Dutch | nl | Portuguese | pt |
| English | en | Romanian | ro |
| Esperanto | eo | Russian | ru |
| Estonian | et | Serbian | sr |
| Filipino | tl | Slovak | sk |
| Finnish | fi | Slovenian | sl |
| French | fr | Spanish | es |
| Galician | gl | Swahili | sw |
| Georgian | ka | Swedish | sv |
| German | de | Tamil | ta |
| Greek | el | Telugu | te |
| Gujarati | gu | Thai | th |
| Haitian Creole | ht | Turkish | tr |
| Hebrew | iw | Ukrainian | uk |
| Hindi | hi | Urdu | ur |
| Hungarian | hu | Vietnamese | vi |
| Icelandic | is | Welsh | cy |
| Indonesian | id | Yiddish | yi |
A short gif of the Entire Steps: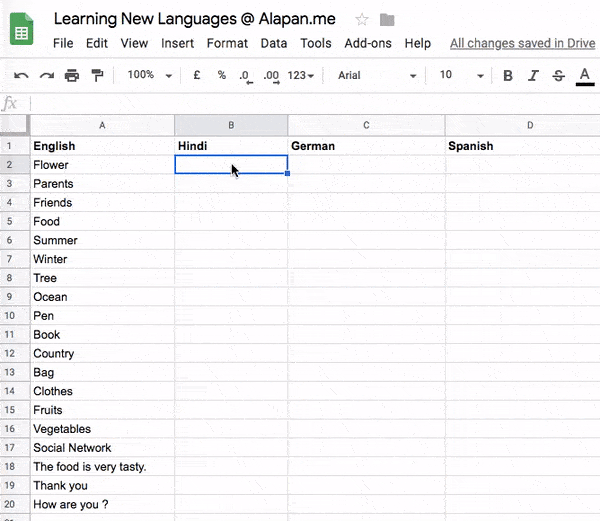 Let me know in the comments if you know any other Google Sheets hacks or tricks 🙂